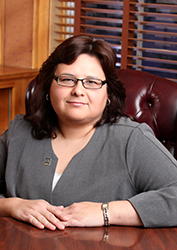 Contact Information
Attention: Diana Gonzales
Mailing: P.O. Box 1458 Kingsville, TX 78364
Physical: 400 W. King Avenue, Kingsville, TX 78363
Business: (361)595-8017
Fax: (361) 595-8064
E-Mail: hradmin@cityofkingsville.com
The City of Kingsville Human Resource (HR) Department's mission is to support the goals and challenges of the City Manager by promoting a work environment characterized by fair treatment of staff, open communications, personal accountability, trust and mutual respect.  HR seeks to provide positive solutions to workplace issues and support our city in meeting its goals through its most valuable resource- its people.
HR works closely with the city at large and oversees the managing, recruitment and hiring of eligible applicants.  HR also administers the city's civil service system, assists and manages employee related matters including policy administration, benefits administration, labor relations, risk management, employee orientations, personnel records retention, wage administration and employee assistance programs.
The City of Kingsville is an equal opportunity employer.  It is the policy of the City to consider all applicants for employment based upon their qualifications.  The City complies with all applicable laws prohibiting discrimination based on race, color, religion, gender, national origin, age, veteran or disability status.
On this site, you will find information and documents regarding employment and application procedures, benefits, health and dental plan and healthcare providers.  We invite you to explore the links below for more information on other human resource topics such as: