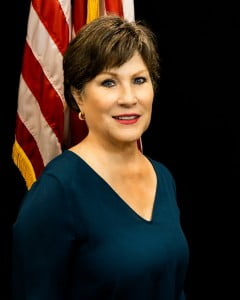 Contact Information
Attention: Dianne Leubert
Mailing: P.O. Box 1458 Kingsville, TX 78364
Physical: 400 W. King Avenue, Kingsville, TX 78363
Business: (361) 595-8002
Fax: (361) 595-8024
E-Mail: comleubert@cityofkingsville.com
Born and raised in Kingsville and left for 10 years to return in 1985, I have made my home here since.  I am married to my best friend Raul (Roy) Medina and we have 2 children between us plus 2 in laws and one grandchild.  And 2 four legged kids.
My commitment to Kingsville is first and foremost the health and safety including Quality of life options for our residents.   Good streets, clean water and support of our Police and Fire and being fiscally responsible to taxpayers.
I volunteer my time and energy in making our community a better place to live for all equally.   I am here to hear from and will discuss any question or concern from my constituents.
I am involved in the following:
Coastal Bend Council of Governments (COG) – Executive Board
COG Natural Resources Advisory Committee, formally Solid Waste Advisory, Chair
TX Dept. of Agriculture Regional Review Committee for Block Grants
Kleberg County Adult Literacy Board
Keep Kingsville Beautiful Board
Navy League Board
Kingsville Animal Advocates Chair
Kingsville Garden Club
Elk's Auxiliary
Christus Spohn Hospital Ambassador's
I have 12 years of City of Kingsville experience as an employee.  And I believe in giving back to the home we choose to live.  I live by that code.