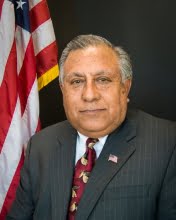 Contact Information
Attention: Arturo Pecos
Mailing: P.O. Box 1458 Kingsville, TX 78364
Physical: 400 W. King Avenue, Kingsville, TX 78363
Business: (361) 595-8001
Fax: N/A
E-Mail: compecos@cityofkingsville.com
I have served the City of Kingsville in the capacity of City Commissioner for over 15 years. I am a member of the American Legion Post 99, Disabled American Veterans Chapter #203, Catholic War Veterans Post 1622, America's Last Patrol, Inc., State Guard Association of the United States, and the Texas State Guard Headquarters in Kingsville. I am also a Coach/Manager of the American Senior League Baseball and the Brush Country Softball League Pinto Division.
Born on January 4th to Jimmy N. Pecos and Maria Isabel Cardenas, I grew up in Eagle Pass, Texas, where I attended Robert E. Lee Elementary School, Eagle Pass Jr. High, and graduated from Eagle Pass High School in May, 1968. After graduation, I joined the U.S. Marine Corps and was honorably discharged in 1971. I attended Southwest Texas Jr. College in Uvalde, Texas, and received an Associate of Arts in 1973. I later attended Texas A & I University in Kingsville and received a baccalaureate and a master's degree.
I am married to Mary Esquivel Pecos from Mission, Texas. We have two children, Rolando "RP", who attends San Antonio Community College, and Celina, who attends Kleberg Elementary School in Kingsville.