READY         SET           GO!
Javelina Country Stars AAU Summer Track Program
in partnership with Kingsville Parks & Recreation
Five week program from May 22 to June 24 at Javelina Stadium
Registration – at the stadium before practices
Practices –           May 22-June 5 -5:15-6:30pm
Starting June 5 – 8:00-9:00 am for kids up to 9 years old
Others- 8:00-9:30 am
Practices are Monday-Thursday
Ages 3-17 (3-6 year olds must have somebody stay at practices)
Meets for 2005 and younger are on Fridays
Meets for 1999-2004 are on Friday evenings.
All meets in Coastal Bend Area.
Cost for the 5 week program is $50.00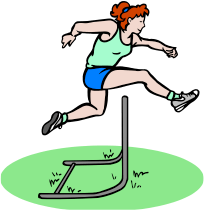 (Covers T-shirt and AAU membership)
For more information call Coach Cantu at 522-0282 or e-mail reilil@hotmail.com
For more information regarding other Summer Youth Activities, please see the 2017 SUMMER YOUTH ACTIVITIES BROCHURE