Process for Electrical Turn-on's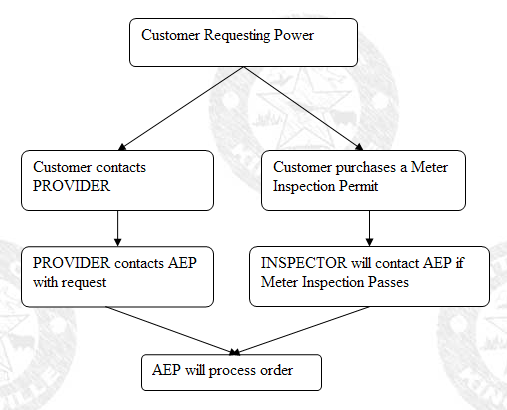 The Electrical Inspector has 24 hours from the time the permit is purchased to do the Meter Inspection.
AEP will process the order within 10 business days.
The City of Kingsville is not responsible for turning on power.
The Customer must provide the correct address and ESI Number (EZ ID Number) when purchasing the permit in order to eliminate any problems with the connection of your order.
Inside the City Limits of Kingsville, TX Requirements
Residential:
No Previous Meter at Premise
Meter Removed from Premise
Meter Disconnected at Premise for more than 180 days
Upgrades/Repairs to existing meter enclosure at premise
Mobile Homes:
No Previous Meter at Premise
Meter Removed from Premise
Meter Disconnected at Premise for more than 180 days
Upgrades/Repairs to existing meter enclosure at premise
Non-Residential:
No Previous Meter at Premise
Meter Removed from Premise
Meter Disconnected at Premise
Active Meter at Premise with name change
Upgrades/Repairs to existing meter enclosure at premise
Exemptions:
State/Federal Properties – No Inspection Required
Apartments at Texas A&M Campus – No Inspection Required
Outside the City Limits of Kingsville, TX
No Inspection Required for Kingsville, TX